2022 Todd Fisher Award Recipients
The Past Service Award Winner – Harold Johnson
Harold is a wargamer and miniature gamer by choice and has been a part of Midwest wargaming for over 4 decades, but he began like
many of us. As a child, Harold began gaming in the 1960's, beginning with favorite strategy games such as Checkers, Backgammon,
and Chess taught to him by his uncles and adult family friends. His favorites among popular board games included BATTLESHIP,
STRATEGO, RISK, and CIVIL WAR. A member of Chess Club in high school, he participated in the creation of a naval war game
on an early plotting computer. He also helped found a Star Trek Fan Club/Science Club, which was really an excuse to play games on
a regular basis at the public library. During college at Northwestern University, he was a member of the North Shore General Staff, a
frequent player of Fletcher Pratt, Tractics, Wooden Ships and Iron Men, and massive fantasy miniature battles.

Harold also had a passion for conventions, organizing and running his first state convention in Nebraska in 1972. Since then he has
volunteered, managed, and grown many game conventions from their nascent years and established industry standards for conventions
across the nation. His love of event planning lead to him participate in over 200 conventions locally and internationally as a volunteer,
event provider, celebrity, organizer, manager and owner.

In 1986, while attending his first LITTLE WARS™, the HMGS Midwest flagship convention, he was nominated to the Board of
Directors by a friend and was elected to serve as the HMGS Midwest President. Harold would go on to serve on the Board of
Directors for nearly a decade and a half often as the face of HMGS Midwest.

During his years of service, Harold made many contributions to the support and growth of the HMGS Midwest to become recognized
as a major support of the miniature gaming industry for decades. Some of his accomplishments include beginning the first newsletter,
helping to select the "Knight" emblem/logo of HMGS, and running the Little Wars convention from 1987 – 1999. Harold also has
worked on many other conventions including GEN-CON®, TWIN CON™, GARY CON®, and NEXUS over many decades.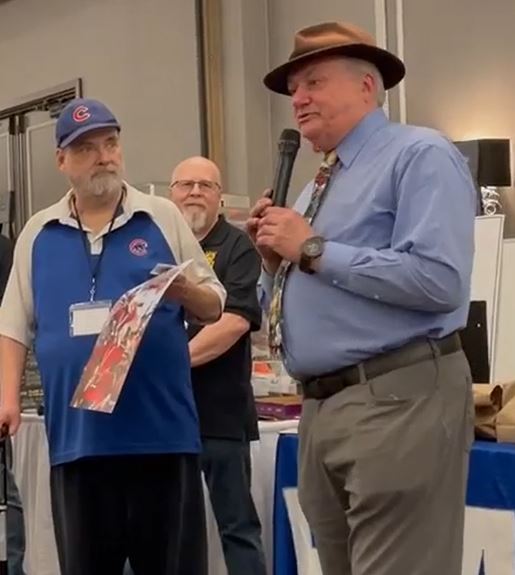 The Active Service Award Winner – Ray Runge
Ray Runge has been a part of the Midwest gaming scene for many years. Ray first attended Little Wars in 1986 at the Rosemont
location and since then he has spent many hours driving to Chicagoland from his home in St Louis. Ray started volunteering at Little
Wars helping out with badge registration. He and 3 other friends would come up from St. Louis to specifically work during the day at
the registration desk and then GM at night. Over the years under their management the stalwart team ran a smooth and efficient
operation.

Ray notes that over the years, he has seen a lot of changes: rules sets come and go but generally improve, the scale of minis changes
from 15mm to 25mm and back again, and games have changed for the better….but it is the people that keep him coming back.

Ray continued to volunteer throughout the years and when asked why, he would say, "Because if I can, then I should." Finally it was
time to pass the torch, and many of the Grognards relinquished their duties in 2017. Some kept on supporting Little Wars and Ray
stands out among many others, still continuously running his games – even running 6 events at last year's Little Wars! One of Ray's
favorite memories is the time that he presented an elaborate Pearl Harbor game and no one played because they thought it was a
display!
Over the last 36 years, Ray has been a solid contribution to the hobby, the organization, and the Little Wars convention. He has GM'd
over 150 events ranging from Starfleet Battles to 15mm fantasy and air games to ships of sail. This year he will be running a modern
submarine warfare game of his own design.
Ray certainly deserves this award and our thanks for his long term and continued service
The Posthumous Service Award Winner – Neil Zimmerer
Neil was a key figure in Chicago Wargaming for his entire life. He was the creator of many board games, including many best sellers
for Avalon Hill. He founded Mayfair games and designed many of their titles.

While his contributions to the hobby in general were massive, in our field he was crucial. Not only did he open his house to gaming
every Friday and Saturday night, but allowed it to be used for organizational meetings, including the formation of HMGS-Midwest
and the organization of Little Wars. While he never sought to lead, he was always there to facilitate. He ran several departments of
Little Wars and put in long hours doing the grunt work before we had organized the volunteer crew. He did most of the design and
layout of the program, ran the ticket booth and was the guy who was always there to be called upon when something had to be done,
laboring in this role for at least seven years.

Neil was a prolific painter and game master as well. Noteworthy in this regard were his efforts to run games for beginners and
youngsters, well before this became a popular thing. He saw that the more advanced rules sets held no attraction for a ten-year-old and
yet when they won one of Neil's games, they proudly wore the Little Wars medal. Some of those kids are the young gamers today.
Young as in 35-year-olds. Because he never sought the limelight, Neil had not won acclaim until now. Better late than never.