2023 Todd Fisher Award Recipients
The Past Service Award Winner – Tony Adams
Tony Adams was instrumental in establishing the miniatures hobby in the Chicagoland area 40+ years ago. He was the main driver behind miniatures in the Chicago Wargamers Association and the Chicago Wargamers Incorporation. He did this work for years. Tony was the straw that stirred the drink for gaming in Chicagoland for the ten years before Little Wars. It was a conversation that Todd Fisher had with him following a disappointing CWI Con that ultimately led to the formation of Little Wars. He helped form the organization that eventually became HMGS-MW and named the convention Little Wars after the HG Wells book. He continued to be a presence within the hobby and managed the Emperor's Headquarters for several years. He ran excellent games at Little Wars after the formation of the convention.

The Active Service Award Winner – Tod Kershner
When I was a little kid in the 1950s, I loved miniatures, building models and TV shows and movies featuring historical military subjects (Davy Crockett, Zorro and, of course westerns). About a year after I graduated from Michigan State University in 1972 (majored in History and Social Sciences) I played my first actual wargame: Panzerblitz. In the mid seventies I started building 1/32 scale tank models and painting the figures that came with them. In 1977 I attended, as a board game dealer (SPI), my first wargaming convention, Gencon at the Playboy club in Lake Geneva, Wisconsin, where I saw my first miniature wargames set up and my addiction immediately deepened. You mean I can combine my two wonderful hobbies: painting figures and wargaming! Since then I have been in and out of the business side of gaming as a distributor, hobby store owner (Battle Creek, MI), commission figure painter and rules author. In the mid seventies I met my first two fellow wargamers in my home area: Dale Wood and John Simmons and they became my regular opponents and lifelong friends. Dale and I created a set of rules for 18th century battles, "Warfare in the Age of Reason", and began regularly playing it and running it at conventions. In 1984 I printed them off on an Atari 800 computer and a 9-pin printer and began selling it through Bill Protz's Seven Years War Journal and Hal Thinglum's Miniature Wargamers Association Newsletter (MWAN). It proved to be popular and in 1993 my friend, Todd Fisher, published a nice, professional edition for his Emperor's Press publishing company. This was voted "Best Wargaming Rules" by Duncan McFarlan's Miniature Wargames magazine. Dale and I followed it up with "Warfare at Sea in the Age of Reason" and "Warfare in the Age of Discovery". Other rule sets I have published included "Pig Wars: When Men were Men and Pigs were Money", "Warfare in the Age of Napoleon", "By the Sword Decided" (medieval), an ACW set "A Fire Bell in the Night" (with Dale Wood and John Simmons) and several others. In 1981 Dale and I attended the Little Wars convention in Chicago (might have been the first one) and ran Age of Reason games there throughout the 80s. Here I met Todd Fisher who has been a close friend ever since plus many other wonderful gamers who showed me gaming "the Chicago way". I have run games at many conventions in the Detroit and Chicago areas and at Pacificon in San Francisco, Border Wars in St. Louis, Hot Lead in Toronto, and at Historicon and Cold Wars. In 1989 Dale and I ran our first convention "Peninsula Campaigns" in Kalamazoo, Michigan and ran it annually for 17 years. In 2013 I was honored to be voted into the HMGS Legion of Honor. At 73, a dedicated and enthusiastic wargamer. I love all aspects of the hobby: miniature painting, scratch building, research, war movies and westerns, designing rules but most of all the wonderful life-long friends I have met over 5 decades in the hobby. "We don't stop playing because we grow old. We grow old because we stop playing". George Bernard Shaw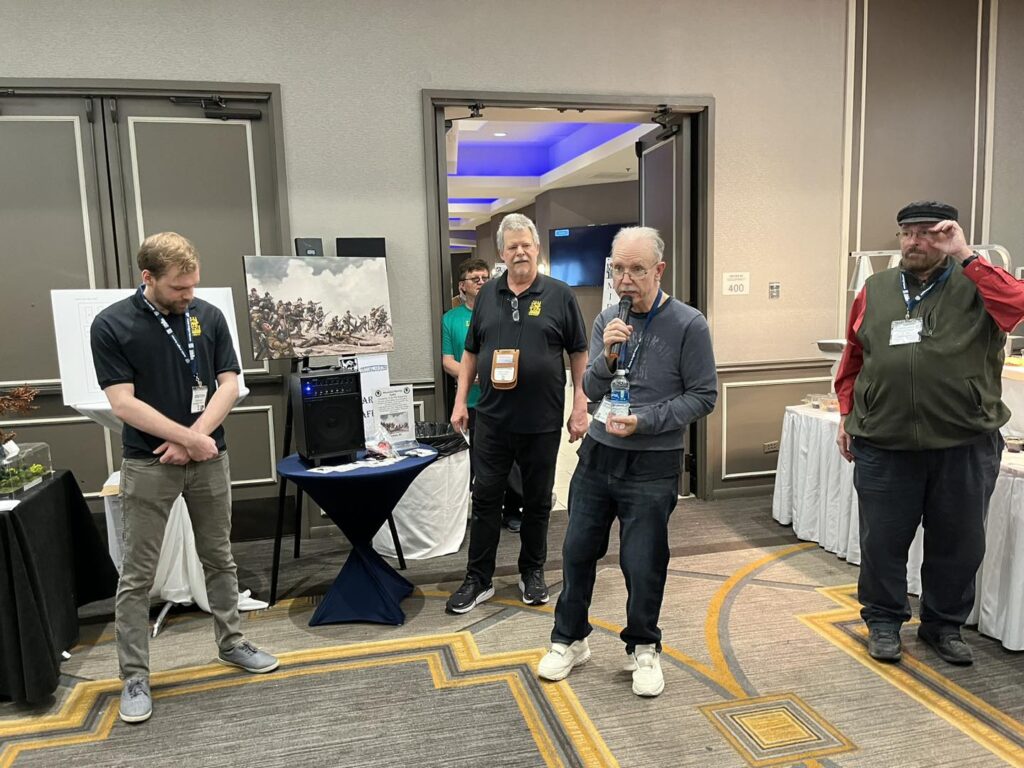 The Posthumous Service Award Winner – Greg Novak
Greg Novak was a gamer's gamer. He was first and foremost an historian. He was cited in many historic non-fiction books for his work. He was innovative and prolific and his games were unique, educational and fun. He loved obscure parts of history and ran campaigns and megagames. He gamed in so many rules, eras and scales it is hard pin down his favorite – but those who knew him best might pick the AWI (where he gamed in 1:1 as a charter member of the North West Territory Alliance (NWTA), an American Revolutionary War reenactment organization located in the Midwest). His work in history and gaming was recognized internationally by many historians. His rules and games were also published by prominent companies. For GDW, he wrote Fire and Steel, Volley and Bayonet and the Command Decision supplement Over the Top. He edited the acclaimed Command Post Quarterly for GDW and was a play tester and contributor for many other GDW games. He wrote Charlie Company and co-wrote Rough Riders. Greg founded Winter War in the early seventies (which is still running after over 50 years). He was instrumental in building the Miniatures Gaming portion of the University of Illinois Game club and encouraging young gamers to come into the hobby. He was one of the founders of the Central Illinois Tabletop Warriors (CITW), and one offshoot of CITW was the annual Wilderness project (one of which had 116 players and judges in a single game sprawling across multiple battlefield tables and HQs all in separate rooms playing simultaneously while still interacting between rooms and bringing true "fog of war" knowledge into a massive battle). He was active in the volatile early days of HMGS Midwest and was president for almost an hour (yes, one hour). Greg also supported other HMGS Chapters and conventions, which led HMGS-East to award him the Legion of Honor. He was a Little Wars vendor as one of the owners of Ulster Imports. They imported and sold FreiKorps 15s and Ulster Import's own publications (where he originally published his Yellow Ribbon rules). His less serious publications he published with Merde Press (when asked if he knew what Merde meant he would without batting an eye he would say, "The guard dies, it does not surrender". OK he had a sense of humor too!). As a middle school librarian, he encouraged his students to play games in the library after school and invited respected fellow gamemasters to run them. His concern for the youth of Champaign continued after he retired from teaching, and he was elected to the school board. He started an innovative academy in Champaign designed to let students who had fallen behind, but were willing to volunteer to do the work to catch up in a more intense but less rigid environment. The Academy was named for Greg after he passed. It is hard to capture the impact of someone who did so much for so many without really expecting little more than friendship in return. Greg was a role model for all gamers and he is sorely missed.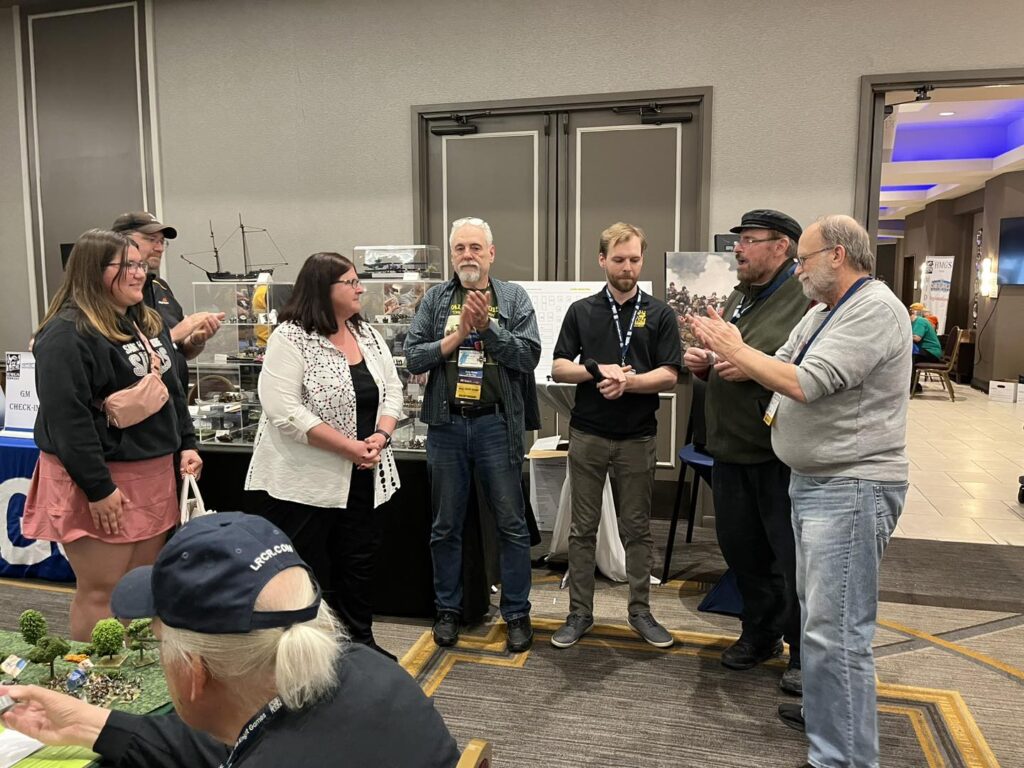 Group Shot of Todd Fisher Awardees